This week's job at Cord-Fix HQ is designing the retail package.
I find packaging to be quite fascinating on many levels. Packaging is a big deal. Very few products are sold without packaging, which means enormous effort and resources are spent on creating beautiful outer containers for inner goods. Packaging protects, displays, delivers, entices, and virtually represents the products held within. Yet once the item is purchased, the packaging is tossed away without a thought. It's an annoyance. Waste. It goes into our bins and receptacles and our landfills.
As an artist, I've literally spent years exploring the hidden beauty of packaging materials. But until now I've never actually designed a package for a consumer product before. So I'm having fun.
My first idea for a package for Cord-Fix was a blister pack. I like blister packs. They have two components: the clear three-dimensional blister that holds and displays the item, and the colorfully-printed card that backs the blister and also provides a surface for images and copy. You've seen blister packs many times. They are designed to hang from pegs, and are well suited for smaller objects. Best of all, the product is clearly visible right through the nearly invisible blister.
Cord-Fix will probably end up being packaged in blister packs in the near future.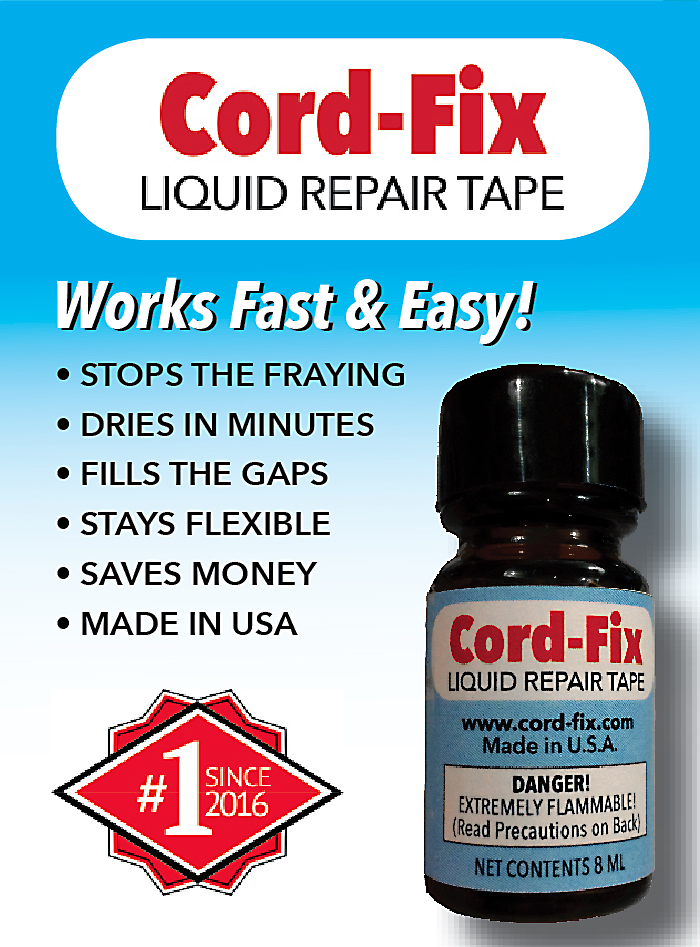 But for now, I'm going with a paper box with a hang tag. That way it can be either hung like a blister card, or stood up on a shelf. And I can do all the packaging and assembly in-house with no additional tools, which makes it perfect for a start-up like Cord-Fix. Assembling blister cards requires some specialized machinery.
With that decision made, the actually design can begin. An effective display box needs bright colors, crisp images and compelling words in order to catch the harried consumer's busy attention. So that's the current task, to make an eye-catching package that speaks exactly to the person who is wondering how to fix a broken charger cable or how to repair a frayed USB cord.
The image above is where I'm at right now. This is just the front panel of the box part; there's an additional hang tag panel that will extend upwards with more content, plus top, bottom, side and back panels, all with content.
It's a work in progress. The copy is a bit awkward still. The image clearly needs color-correcting, and I'm not sure about that drop shadow. The digital file itself is a melange of different formats. Sigh. But, check out that awesome badge. Cord-Fix is #1 since 2016 — that's true, hilarious and ironic all at the same time! Plus, it's a completely original design of my own. That badge is truly #1.
But, I just realized there's a big problem with this design: the image of the bottle has my v1.0 label. There's a v2.0 label that I've created, but haven't ordered yet. So clearly this design can't be finalized until I get the new labels. Argh.
So that's next. Now I'm off to get my new labels moving forward. Gotta go. Bye!