tL;dr A few heavy coats of Cord-Fix work better than multiple thin coats.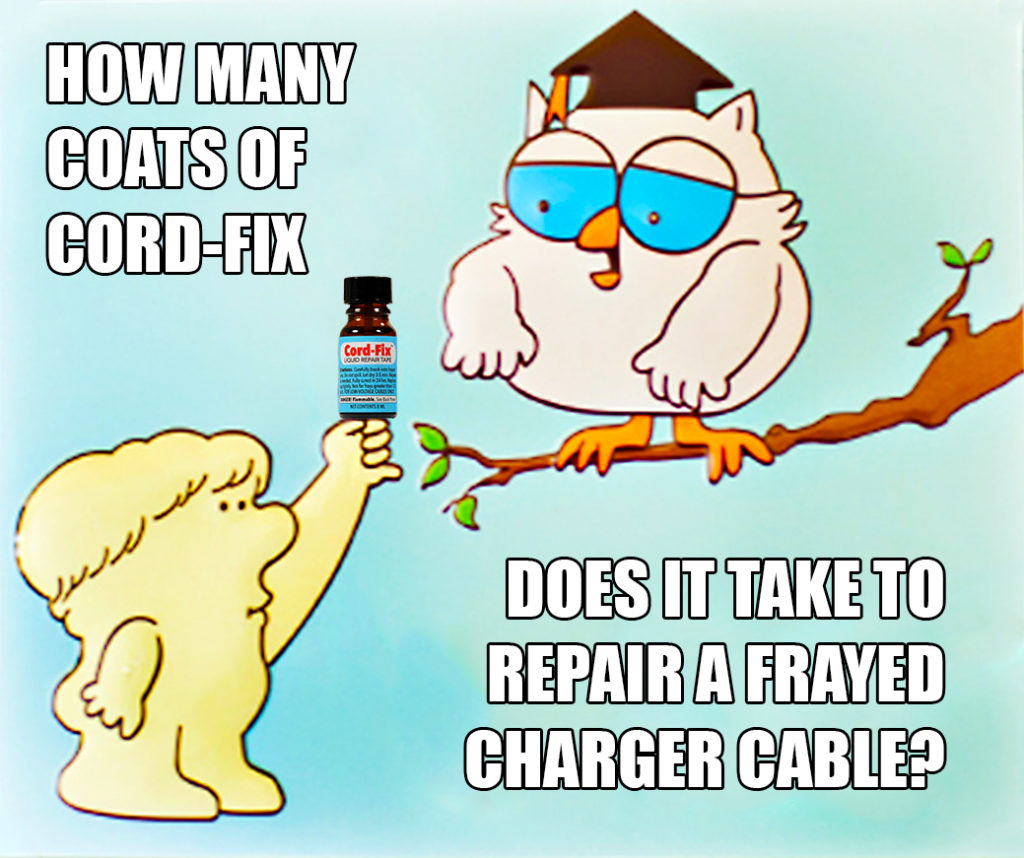 It's October now and Cord-Fix has just finished it's third month of sales on Amazon. Woohoo! We never expected to be selling so well, so early in the game. While there's still a long way to go, so far it's all systems go.
Reading Amazon customer reviews for Cord-Fix been an especially eye-opening experience for us. In this post, I want to discuss a common remark among some reviewers about the number of coats of Cord-Fix needed to effectively repair a frayed charger cable.
Two reviewers have commented that it took 5 coats to get results, and a third said it took "multiple" coats. Clearly I don't know their details, but for a typical fray, that seems like a lot of coats to me. Our instructions recommend at least two coats to insure complete coverage, but we've repaired simple frays with just one coat. Even difficult frays are usually fixed with 3 coats.
So why the difference in user experience? I think it has to do with the way it's applied. Because we here at Cord-Fix Labs are so used to working on frays, we are not dainty when we brush it on. We load up the brush and generously apply the material to the area, sometimes using 2 or even 3 drops, which is a lot.
In other words, we lay it on thick!
Cord-fix has a consistency similar to thick nail polish. With nail polish, however, you typically wipe any excess liquid off the brush onto the inside of the bottle, so you can put down a thin, even coat onto the nail.
But that same thin-coat technique doesn't work as well when making a repair with Cord-Fix. Instead, the goal is to saturate the frayed area so that the liquid gets into all the gaps, and encapsulates the exposed wires. You're literally adding a new cover to the wire. So you want to lay down a generous amount of material.
What's the right amount for a coat? That depends on the size of the fray. But a good rule-of-thumb is just enough so that it doesn't drip off the wire. Put on a drop, maybe two, and brush it into the fray. If the material starts to gather into a drip along the cord, quickly use the brush to move it back around the fray's surface. Fill the gaps and cover the fray in its entirety all around the cable.
This technique works because Cord-Fix dries so fast. In just a few minutes the liquid is set. In about 5-10 minutes it's dry enough to add a second coat. This second coat should also be applied as thickly as possible, perhaps going a little further along the top and bottom of the first coat to really cover the repair. Allow to dry and then use your judgement to decide if any more coats are needed. Every fray is different.
If it weren't for the Amazon reviews, we would never have seen that our instructions on how to apply Cord-Fix need to be more specific. Thank you Amazon for helping us to improve the customer experience. Now we know to tell our customers to really lay it on thick!